St. Silvanus was my mentor, and I his disciple. My Coptic Rite memorial is 5 Feb.
---
---
---
---
More Saints
---
---
Saint Feast Days by Month
---
---
---
---
Pictures of St. George usually show him killing a dragon to rescue a beautiful lady. The dragon stands for wickedness. The lady stands for God's holy truth. St. George was a brave martyr who was ... continue reading
More Saint of the Day
---
---
St. Josephine Bakhita was born in Sudan in 1869. This African flower, who knew the anguish of kidnapping and slavery, bloomed marvelously in Italy, in response to God's grace, with the Daughters of Charity, where everyone still calls her "Mother Moretta" (our Black ... continue reading
More Female Saints
---
---
---
---
St. Michael the Archangel - Feast day - September 29th The name Michael signifies "Who is like to God?" and was the warcry of the good angels in the battle fought in heaven against satan and his followers. Holy Scripture describes St. Michael as "one of the chief ... continue reading
---
The name Gabriel means "man of God," or "God has shown himself mighty." It appears first in the prophesies of Daniel in the Old Testament. The angel announced to Daniel the prophecy of the seventy weeks. His name also occurs in the apocryphal book of Henoch. He was the ... continue reading
---
---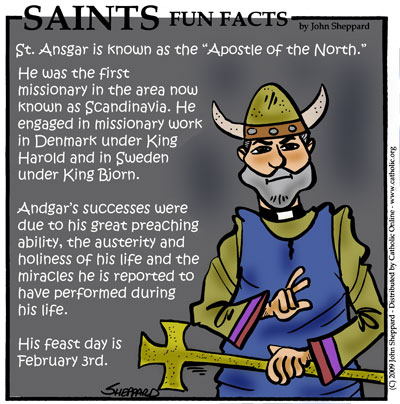 Ansgar was born of a noble family near Amiens. He became a monk at Old Corbie monastery in Picardy and later at New Corbie in Westphalia. He accompanied King Harold to Denmark when the exiled ... continue reading
St. Thomas Aquinas, priest and doctor of the Church, patron of all universities and of students. His feast day is January 28th. He was born toward the end of the year 1226. He was the son of ... continue reading
---
More Saints
---
By Rev. Peter M. J. Stravinskas, Ph.D., S.T.D.
This model of Christian manliness recommends himself to us not for any strange or exciting things he did (because he really didn't) but for the daily listening to and heeding the voice of Almighty God - in the home, in the synagogue and Temple, in the ... continue reading
More Christian Saints & Heroes
More Christian Saints & Heroes
---