As a monk, I visited Kemetian hermits, and wrote their lives, (e.g. Timothy, Onuphrius). Coptic Calendar, 9 Feb.
---
---
---
---
More Saints
---
---
Saint Feast Days by Month
---
---
---
---
Pictures of St. George usually show him killing a dragon to rescue a beautiful lady. The dragon stands for wickedness. The lady stands for God's holy truth. St. George was a brave martyr who was ... continue reading
More Saint of the Day
---
---
Jessica is a derivation of Joanna. Joanna was the wife of Chuza, steward of King Herod Antipas, tetrarch of Galilee. She was one of the women who helped provide for Jesus and the Apostles and was one of the three women who discovered the empty tomb of Jesus on the ... continue reading
More Female Saints
---
---
---
---
St. Michael the Archangel - Feast day - September 29th The name Michael signifies "Who is like to God?" and was the warcry of the good angels in the battle fought in heaven against satan and his followers. Holy Scripture describes St. Michael as "one of the chief ... continue reading
---
The name Gabriel means "man of God," or "God has shown himself mighty." It appears first in the prophesies of Daniel in the Old Testament. The angel announced to Daniel the prophecy of the seventy weeks. His name also occurs in the apocryphal book of Henoch. He was the ... continue reading
---
---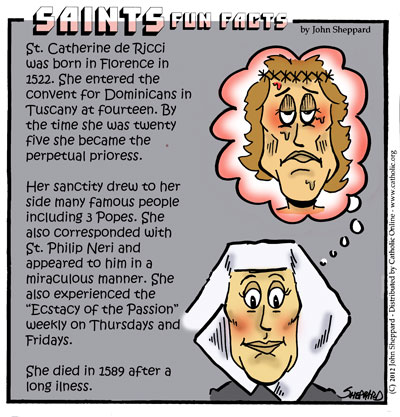 St. Catherine was born in Florence in 1522. Her baptismal name was Alexandrina, but she took the name of Catherine upon entering religion. From her earliest infancy she manifested a great love of ... continue reading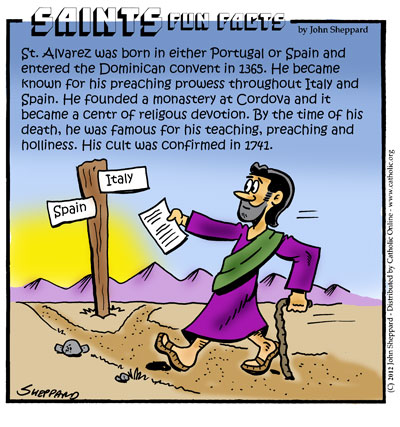 Alvarez was born in either Lisbon, Portugal, or Cordova, Spain. He entered the Dominican convent at Cordova in 1368. He became known for his preaching prowess in Spain and Italy, was confessor and ... continue reading
---
More Saints
---
By Rev. Peter M. J. Stravinskas, Ph.D., S.T.D.
This model of Christian manliness recommends himself to us not for any strange or exciting things he did (because he really didn't) but for the daily listening to and heeding the voice of Almighty God - in the home, in the synagogue and Temple, in the ... continue reading
More Christian Saints & Heroes
More Christian Saints & Heroes
---