The history of the Church is full of many Japanese / Japan Catholic saints, who received recognition for great deeds or meritorious conduct. Many lost their lives in defense of the faith. Many were also honored for their contributions to the Church and their community.
---
---
More Saints
---
---
Saint Feast Days by Month
---
---
---
---
When St. Mamertinus was Abbot of the monastery which St. Germanus had founded at Auxerre, there came to him a young man called Marcian (also known as Marian), a fugitive from Bourges then occupied by ... continue reading
More Saint of the Day
---
---
Dymphna was fourteen when her mother died. Damon is said to have been afflicted with a mental illness, brought on by his grief. He sent messengers throughout his town and other lands to find some woman of noble birth, resembling his wife, who would be willing to marry ... continue reading
More Female Saints
---
---
---
---
St. Michael the Archangel - Feast day - September 29th The name Michael signifies "Who is like to God?" and was the warcry of the good angels in the battle fought in heaven against satan and his followers. Holy Scripture describes St. Michael as "one of the chief ... continue reading
---
The name Gabriel means "man of God," or "God has shown himself mighty." It appears first in the prophesies of Daniel in the Old Testament. The angel announced to Daniel the prophecy of the seventy weeks. His name also occurs in the apocryphal book of Henoch. He was the ... continue reading
---
---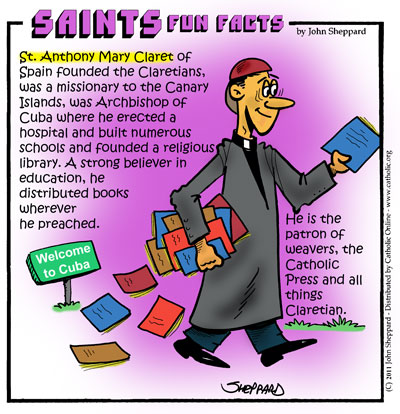 Claretian archbishop and founder. Anthony was born in Salient in Catalonia, Spain, in 1807, the son of a weaver. He took up weaving but then studied for the priesthood, desiring to be a Jesuit. Ill ... continue reading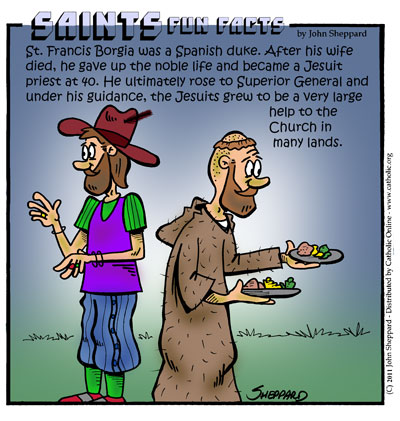 Francis was a young nobleman at the court of the King of Spain. He became a Duke when he was only thirty-three and lived a happy, peaceful life with his wife Eleanor and their eight children. But ... continue reading
---
More Saints
---
By Rev. Peter M. J. Stravinskas, Ph.D., S.T.D.
This model of Christian manliness recommends himself to us not for any strange or exciting things he did (because he really didn't) but for the daily listening to and heeding the voice of Almighty God - in the home, in the synagogue and Temple, in the ... continue reading
More Christian Saints & Heroes
More Christian Saints & Heroes
---