St. Ita
Feastday:
January 15
Patron
of the Roman Catholic Diocese of Limerick, Ireland
475 - 570
Ita was reputedly of royal lineage. She was born at Decies, Waterford, Ireland, refused to be married, and secured her father's permission to live a virginal life. She moved to Killeedy, Limerick, and founded a community of women dedicated to God. She also founded a school for boys, and one of her pupils was St. Brendan. Many extravagant miracles were attributed to her (in one of them she is reputed to have reunited the head and body of a man who had been beheaded; in another she lived entirely on food from heaven), and she is widely venerated in Ireland. She is also known as Deirdre and Mida.
Learn interesting facts and tidbits about the beloved St. Patrick.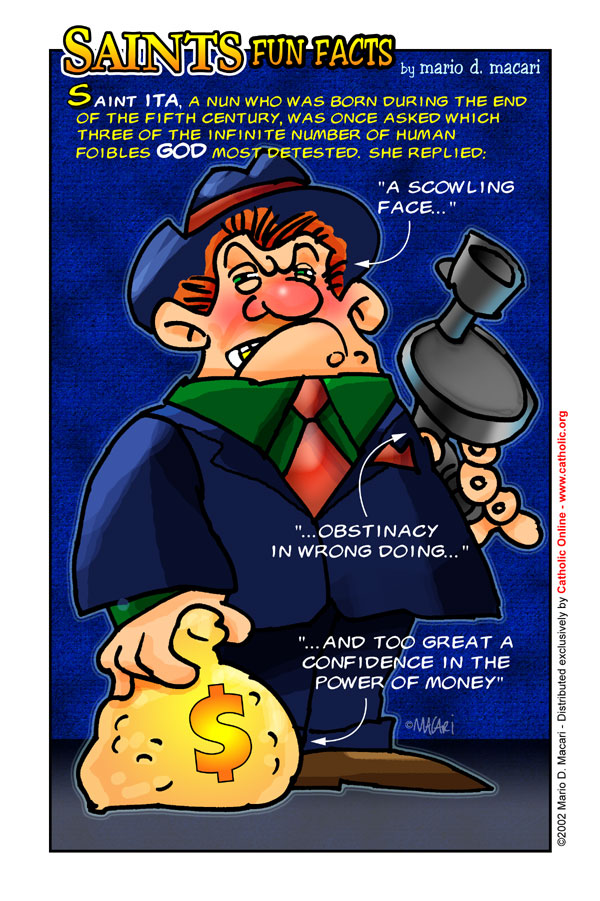 Rate This Saint
Leave a Comment
Catholic Online offers the largest searchable database of Catholic Saints on the internet.
---
---
---
---
St. Constantine
March 11: Constantine was king of Cornwall. Unreliable tradition has him ... Read More
---
---
---
Volume Five: Jesus the Redeemer
Bishop Leo O'Reilly of the Diocese of Kilmore, Ireland has given ... Read More
---
Catholic Baptism Gifts
Find baptismal gifts that make lasting memories for a cherished loved ... Read More