Epictetus.
Africa
Martyrs, 9 Jan.
---
---
---
---
More Saints
---
---
Saint Feast Days by Month
---
---
---
---
Archbishop and "the First Martyr of Canterbury." He was born in 953 and became a monk in the Deerhurst Monastery in Gloucester, England, asking after a few years to become a hermit. He received ... continue reading
More Saint of the Day
---
---
St. Catherine of Bologna, Virgin (Patroness of Artists) Feast - March 9th Born in 1413, Catherine de Vigri was the daughter of a diplomatic agent of the Marquis of Ferrara. At the age of eleven, she was appointed maid of honor to the daughter of the Marquis and shared ... continue reading
More Female Saints
---
---
---
---
St. Michael the Archangel - Feast day - September 29th The name Michael signifies "Who is like to God?" and was the warcry of the good angels in the battle fought in heaven against satan and his followers. Holy Scripture describes St. Michael as "one of the chief ... continue reading
---
The name Gabriel means "man of God," or "God has shown himself mighty." It appears first in the prophesies of Daniel in the Old Testament. The angel announced to Daniel the prophecy of the seventy weeks. His name also occurs in the apocryphal book of Henoch. He was the ... continue reading
---
---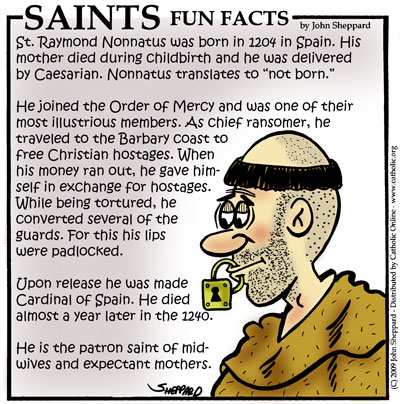 Raymond was born at Portella, Catalonia, Spain. He was delivered by caesarean operation when his mother died in childbirth. Hence his name non natus (not born). He joined the Mercedarians under St. ... continue reading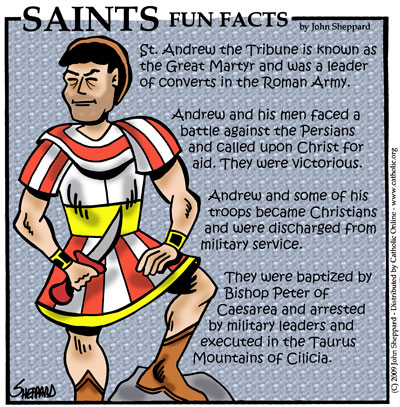 The "Great Martyr," and the leader of converts in the Roman army. While serving as a tribune in the army of General Galerius, Andrew and his men faced a battle with a Persian host. Calling upon ... continue reading
---
More Saints
---
By Rev. Peter M. J. Stravinskas, Ph.D., S.T.D.
This model of Christian manliness recommends himself to us not for any strange or exciting things he did (because he really didn't) but for the daily listening to and heeding the voice of Almighty God - in the home, in the synagogue and Temple, in the ... continue reading
More Christian Saints & Heroes
More Christian Saints & Heroes
---