Deacon in Alexandria, Kemet (Africa), who agreed to the deposition at Alexandria in 321 A.D., in a synod of more than 100 African Kemetian (Egyptian), and Libyan bishops of Heretic priest Arius and henchmen. A holy folk.
---
---
---
---
More Saints
---
---
Saint Feast Days by Month
---
---
---
---
Anicetus was a Syrian from Emesa. He became pope about 155 and actively opposed Marcionism and Gnosticism. His pontificate saw the appearance of the controversy between East and West over the date of ... continue reading
More Saint of the Day
---
---
Dymphna was fourteen when her mother died. Damon is said to have been afflicted with a mental illness, brought on by his grief. He sent messengers throughout his town and other lands to find some woman of noble birth, resembling his wife, who would be willing to marry ... continue reading
More Female Saints
---
---
---
---
St. Michael the Archangel - Feast day - September 29th The name Michael signifies "Who is like to God?" and was the warcry of the good angels in the battle fought in heaven against satan and his followers. Holy Scripture describes St. Michael as "one of the chief ... continue reading
---
The name Gabriel means "man of God," or "God has shown himself mighty." It appears first in the prophesies of Daniel in the Old Testament. The angel announced to Daniel the prophecy of the seventy weeks. His name also occurs in the apocryphal book of Henoch. He was the ... continue reading
---
---
St. Thomas was a Jew, called to be one of the twelve Apostles. He was a dedicated but impetuous follower of Christ. When Jesus said He was returning to Judea to visit His sick friend Lazarus, Thomas ... continue reading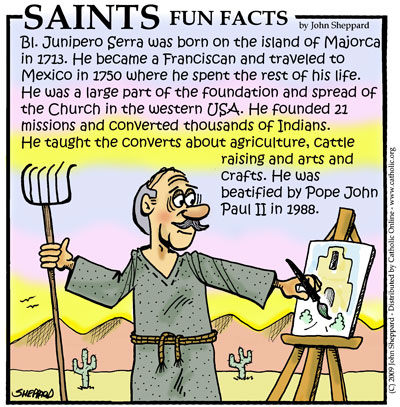 Miguel Jose Serra was born on the island of Majorca on November 24, 1713, and took the name of Junipero when in 1730, he entered the Franciscan Order. Ordained in 1737, he taught philosophy and ... continue reading
---
More Saints
---
By Rev. Peter M. J. Stravinskas, Ph.D., S.T.D.
This model of Christian manliness recommends himself to us not for any strange or exciting things he did (because he really didn't) but for the daily listening to and heeding the voice of Almighty God - in the home, in the synagogue and Temple, in the ... continue reading
More Christian Saints & Heroes
More Christian Saints & Heroes
---