Deacon. Possibly a duplicate name, but a deacon in Alexandria, Kemet (Africa), who agreed to the deposition at Alexandria in 321 A.D., in a synod of more than 100 African, Kemetian (Egyptian), and Libyan bishops of Heretic priest Arius and henchmen. A holy folk.
---
---
---
---
More Saints
---
---
Saint Feast Days by Month
---
---
---
---
Pictures of St. George usually show him killing a dragon to rescue a beautiful lady. The dragon stands for wickedness. The lady stands for God's holy truth. St. George was a brave martyr who was ... continue reading
More Saint of the Day
---
---
St. Catherine of Alexandria, Virgin and Martyr whose feast day is November 25th. She is the patroness of philosophers and preachers. St. Catherine is believed to have been born in Alexandria of a noble family. Converted to Christianity through a vision, she ... continue reading
More Female Saints
---
---
---
---
St. Michael the Archangel - Feast day - September 29th The name Michael signifies "Who is like to God?" and was the warcry of the good angels in the battle fought in heaven against satan and his followers. Holy Scripture describes St. Michael as "one of the chief ... continue reading
---
The name Gabriel means "man of God," or "God has shown himself mighty." It appears first in the prophesies of Daniel in the Old Testament. The angel announced to Daniel the prophecy of the seventy weeks. His name also occurs in the apocryphal book of Henoch. He was the ... continue reading
---
---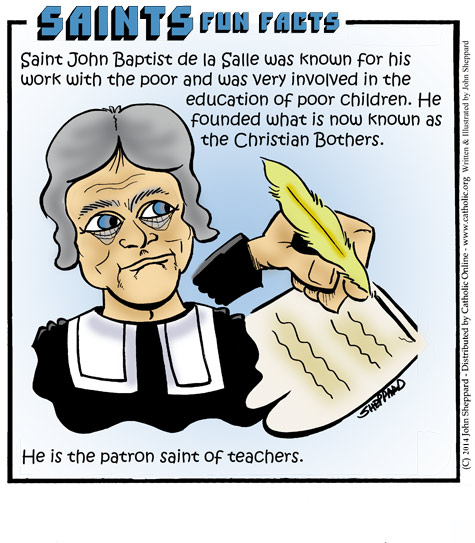 John Baptist de la Salle was born at Rheims, France on April 30th. He was the eldest of ten children in a noble family. He studied in Paris and was ordained in 1678. He was known for his work with ... continue reading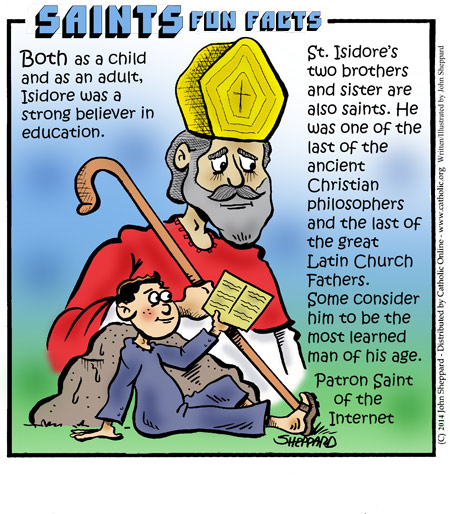 Isidore was literally born into a family of saints in sixth century Spain. Two of his brothers, Leander and Fulgentius, and one of his sisters, Florentina, are revered as saints in Spain. It was also ... continue reading
---
More Saints
---
By Rev. Peter M. J. Stravinskas, Ph.D., S.T.D.
This model of Christian manliness recommends himself to us not for any strange or exciting things he did (because he really didn't) but for the daily listening to and heeding the voice of Almighty God - in the home, in the synagogue and Temple, in the ... continue reading
More Christian Saints & Heroes
More Christian Saints & Heroes
---