Deacon. Possibly a duplicate name, but a deacon in Alexandria, Kemet (Africa), who agreed to the deposition at Alexandria in 321 A.D., in a synod of more than 100 African, Kemetian (Egyptian), and Libyan bishops of Heretic priest Arius and henchmen. A holy folk.
---
---
---
---
More Saints
---
---
Saint Feast Days by Month
---
---
---
---
St. Anselm Archbishop of Canterbury and Confessor APRIL 21,A.D. 1109 IF the Norman conquerors stripped the English nation of its liberty, and many temporal advantages, it must be owned that by their ... continue reading
More Saint of the Day
---
---
By tradition Joachim and Anne are considered to be the names of the parents of Mary, the Mother of God. We have no historical evidence, however, of any elements of their lives, including their names. Any stories about Mary's father and mother come to us through legend ... continue reading
More Female Saints
---
---
---
---
St. Michael the Archangel - Feast day - September 29th The name Michael signifies "Who is like to God?" and was the warcry of the good angels in the battle fought in heaven against satan and his followers. Holy Scripture describes St. Michael as "one of the chief ... continue reading
---
The name Gabriel means "man of God," or "God has shown himself mighty." It appears first in the prophesies of Daniel in the Old Testament. The angel announced to Daniel the prophecy of the seventy weeks. His name also occurs in the apocryphal book of Henoch. He was the ... continue reading
---
---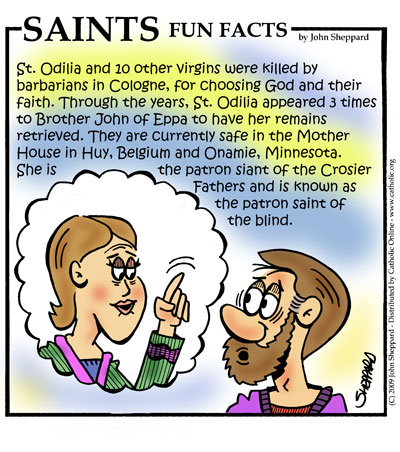 Saint Odilia About the year 300, Saint Odilia and ten other virgins set out from England on a pilgrimage to the East. By accident or plan the ship in which they sailed went up the Rhine. They were ... continue reading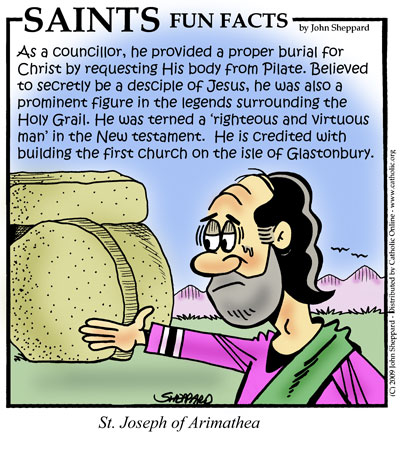 The councillor (Lk 23:50) who, after the Crucifixion, requested the body of Christ from Pontius Pilate and provided for a proper burial for Christ. An immensely popular figure in Christian lore, ... continue reading
---
More Saints
---
By Rev. Peter M. J. Stravinskas, Ph.D., S.T.D.
This model of Christian manliness recommends himself to us not for any strange or exciting things he did (because he really didn't) but for the daily listening to and heeding the voice of Almighty God - in the home, in the synagogue and Temple, in the ... continue reading
More Christian Saints & Heroes
More Christian Saints & Heroes
---