of Ethiopia. I was born at Tyre (modern Sur, Lebanon), one of the Apostles to Ethiopia (after St. Matthew); Abuna of Ethiopia; and the Father of Ethiopia.
In the Western liturgical church, my feast day is 27 Oct. Aedeius is my brother. I was a student of Meropius.
On a Red Sea ship cruise, a vessel wrecked on the Abbyssinian shoreline. My brother and I survived. Soldiers took us to the King of Axum. We were unable to return home, so we joined the court with myself gaining a position like a secretary, or minister.
The King died. We became members of the succeeding Queen's court. She allowed us to preach Christ, the knowledge of whom had been previously brought by the Eunuch, and Apostles Phillip, Mathew, and Nathaniel.
I asked another African, Patriarch Athanasius of Alexandria, to provide missionaries from his headquarters (see). He complied. I was later consecrated bishop of Ethiopia.
Through Godís grace, Ethiopian princes Ezana and Sheazana converted. I died peacefully around 380 A.D.
---
---
---
---
More Saints
---
---
Saint Feast Days by Month
---
---
---
---
Archbishop and "the First Martyr of Canterbury." He was born in 953 and became a monk in the Deerhurst Monastery in Gloucester, England, asking after a few years to become a hermit. He received ... continue reading
More Saint of the Day
---
---
By tradition Joachim and Anne are considered to be the names of the parents of Mary, the Mother of God. We have no historical evidence, however, of any elements of their lives, including their names. Any stories about Mary's father and mother come to us through legend ... continue reading
More Female Saints
---
---
---
---
St. Michael the Archangel - Feast day - September 29th The name Michael signifies "Who is like to God?" and was the warcry of the good angels in the battle fought in heaven against satan and his followers. Holy Scripture describes St. Michael as "one of the chief ... continue reading
---
The name Gabriel means "man of God," or "God has shown himself mighty." It appears first in the prophesies of Daniel in the Old Testament. The angel announced to Daniel the prophecy of the seventy weeks. His name also occurs in the apocryphal book of Henoch. He was the ... continue reading
---
---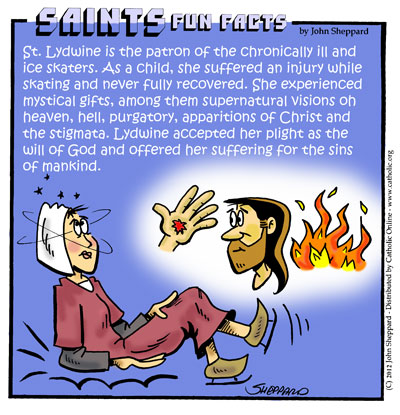 St. Lydwine is the patroness of sickness Lydwine of Schiedam was born at Schiedam, Holland, one of nine children of a working man. After an injury in her youth, she became bedridden and suffered the ... continue reading
The second Gospel was written by St. Mark, who, in the New Testament, is sometimes called John Mark. Both he and his mother, Mary, were highly esteemed in the early Church, and his mother's house in ... continue reading
---
More Saints
---
By Rev. Peter M. J. Stravinskas, Ph.D., S.T.D.
This model of Christian manliness recommends himself to us not for any strange or exciting things he did (because he really didn't) but for the daily listening to and heeding the voice of Almighty God - in the home, in the synagogue and Temple, in the ... continue reading
More Christian Saints & Heroes
More Christian Saints & Heroes
---