with Atom. We are brother martyrs, living at Gamnudi, Kemet. Persecutions caused us to flee to Farama, Kemet.
At Alexandria, authorities arrested and tortured us. However, the prefect released us. We traveled to Baramon. There, officials beheaded us.
---
More about St. Aberoh (Aburom, Arianus) from Wikipedia
---
---
---
More Saints
---
---
Saint Feast Days by Month
---
---
---
---
Franciscan Capuchin martyr. He was born Mark Rey is Sigmaringen, Germany, in 1577. A practicing lawyer, he traveled across Europe as a tutor to aristocrats but then started defending the poor. In ... continue reading
More Saint of the Day
---
---
Virgin, born at Lima, Peru 20 April, 1586; died there the 24 of August, 1617. St. Rose of Lima is the patroness of Latin America and the Philippines. This South American Saint's real name was Isabel, but she was such a beautiful baby that she was called Rose, and ... continue reading
More Female Saints
---
---
---
---
St. Michael the Archangel - Feast day - September 29th The name Michael signifies "Who is like to God?" and was the warcry of the good angels in the battle fought in heaven against satan and his followers. Holy Scripture describes St. Michael as "one of the chief ... continue reading
---
The name Gabriel means "man of God," or "God has shown himself mighty." It appears first in the prophesies of Daniel in the Old Testament. The angel announced to Daniel the prophecy of the seventy weeks. His name also occurs in the apocryphal book of Henoch. He was the ... continue reading
---
---
St. Thomas Aquinas, priest and doctor of the Church, patron of all universities and of students. His feast day is January 28th. He was born toward the end of the year 1226. He was the son of ... continue reading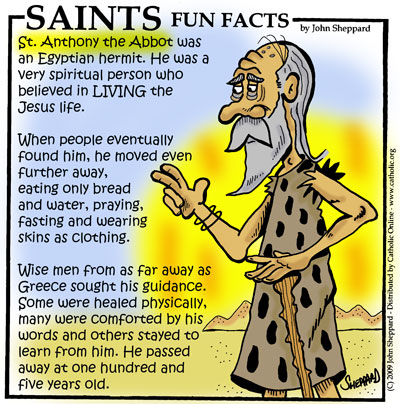 Two Greek philosophers ventured out into the Egyptian desert to the mountain where Anthony lived. When they got there, Anthony asked them why they had come to talk to such a foolish man? He had ... continue reading
---
More Saints
---
By Rev. Peter M. J. Stravinskas, Ph.D., S.T.D.
This model of Christian manliness recommends himself to us not for any strange or exciting things he did (because he really didn't) but for the daily listening to and heeding the voice of Almighty God - in the home, in the synagogue and Temple, in the ... continue reading
More Christian Saints & Heroes
More Christian Saints & Heroes
---