with Atom. We are brother martyrs, living at Gamnudi, Kemet. Persecutions caused us to flee to Farama, Kemet.
At Alexandria, authorities arrested and tortured us. However, the prefect released us. We traveled to Baramon. There, officials beheaded us.
---
More about St. Aberoh (Aburom, Arianus) from Wikipedia
---
---
---
More Saints
---
---
Saint Feast Days by Month
---
---
---
---
Martyr whose Apologia, or defense of the faith, is considered one of the most priceless documents of the early Church. Apollonius was a Roman senator who was denounced as a Christian by one of his ... continue reading
More Saint of the Day
---
---
St. Jude, known as Thaddaeus, was a brother of St. James the Less, and a relative of Our Saviour. St. Jude was one of the 12 Apostles of Jesus. Ancient writers tell us that he preached the Gospel in Judea, Samaria, Idumaea, Syria, Mesopotamia, and Lybia. According ... continue reading
More Female Saints
---
---
---
---
St. Michael the Archangel - Feast day - September 29th The name Michael signifies "Who is like to God?" and was the warcry of the good angels in the battle fought in heaven against satan and his followers. Holy Scripture describes St. Michael as "one of the chief ... continue reading
---
The name Gabriel means "man of God," or "God has shown himself mighty." It appears first in the prophesies of Daniel in the Old Testament. The angel announced to Daniel the prophecy of the seventy weeks. His name also occurs in the apocryphal book of Henoch. He was the ... continue reading
---
---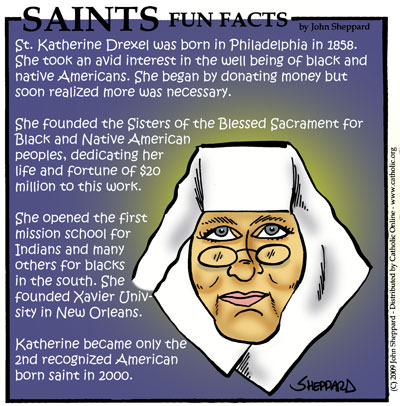 Saint Katharine Drexel, Religious (Feast Day-March 3) Born in 1858, into a prominent Philadelphia family, Katharine became imbued with love for God and neighbor. She took an avid interest in the ... continue reading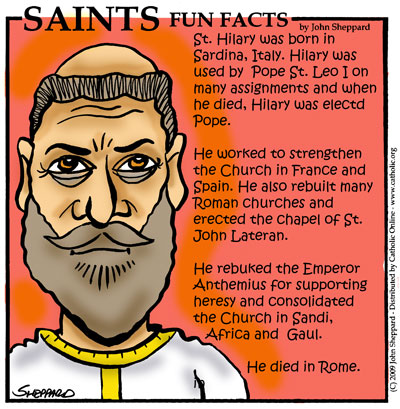 Pope from 461-468 and guardian of Church unity. He was born in Sardinia, Italy, and was a papal legate to the Robber Council of Ephesus in 449, barely escaping with his life from this affair. Hilary ... continue reading
---
More Saints
---
By Rev. Peter M. J. Stravinskas, Ph.D., S.T.D.
This model of Christian manliness recommends himself to us not for any strange or exciting things he did (because he really didn't) but for the daily listening to and heeding the voice of Almighty God - in the home, in the synagogue and Temple, in the ... continue reading
More Christian Saints & Heroes
More Christian Saints & Heroes
---