received the Holy Sacraments, and prayed to God to guide him to where he can confess his faith in Jesus. Afterwards, he gave all his possessions to the needy.
He walked the city of Samanoud. While traveling, he saw the Archangel Michael in celestial glory. Abanoub fell. The Archangel raised him, telling him that he must suffer three days in Samanoud and that he would witness to Jesus Christ in other places.
---
More about St. Abanoub from Wikipedia
---
---
---
More Saints
---
---
Saint Feast Days by Month
---
---
---
---
Archbishop and "the First Martyr of Canterbury." He was born in 953 and became a monk in the Deerhurst Monastery in Gloucester, England, asking after a few years to become a hermit. He received ... continue reading
More Saint of the Day
---
---
Irish abbess and disciple of St. Abban. When St. Abban founded a convent in Ballyvourney, County Cork, Ireland, Gobnata was placed in charge. A well there bears her name. continue reading
More Female Saints
---
---
---
---
St. Michael the Archangel - Feast day - September 29th The name Michael signifies "Who is like to God?" and was the warcry of the good angels in the battle fought in heaven against satan and his followers. Holy Scripture describes St. Michael as "one of the chief ... continue reading
---
The name Gabriel means "man of God," or "God has shown himself mighty." It appears first in the prophesies of Daniel in the Old Testament. The angel announced to Daniel the prophecy of the seventy weeks. His name also occurs in the apocryphal book of Henoch. He was the ... continue reading
---
---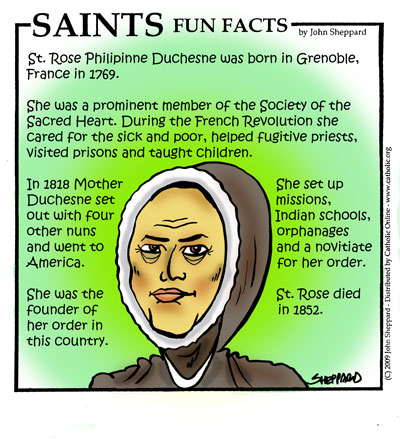 St. Rose Philippine Duchesne, Virgin (Feast day - November 18) Born in Grenoble, France, in 1769, Rose joined the Society of the Sacred Heart. In 1818, when she was forty-nine years old, Rose was ... continue reading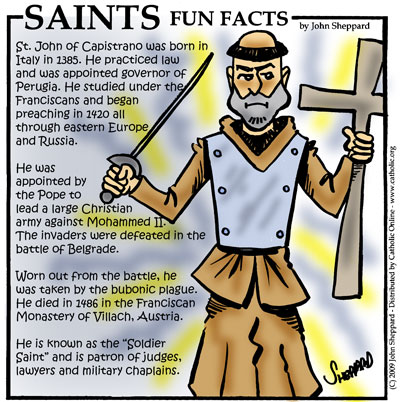 St. John was born at Capistrano, Italy in 1385, the son of a former German knight in that city. He studied law at the University of Perugia and practiced as a lawyer in the courts of Naples. King ... continue reading
---
More Saints
---
By Rev. Peter M. J. Stravinskas, Ph.D., S.T.D.
This model of Christian manliness recommends himself to us not for any strange or exciting things he did (because he really didn't) but for the daily listening to and heeding the voice of Almighty God - in the home, in the synagogue and Temple, in the ... continue reading
More Christian Saints & Heroes
More Christian Saints & Heroes
---