and my sister Iraya [Herais] with other martyrs, Abadir with his sister, Iraja (Herais). We are children martyrs of St. Basilides' sister. Basilides' is called the Father of Kings.
We were brought under arrest to Antinoe, Kemet, beheaded with Cluthus, a physician and priest, 3685 companions, and other martyrs.
Also martyred with us were Apa Paphnutius of Tentyra, priest; Apa Isaac of Tiphre, priest; Apa Shamul of Taraphia, priest; Apa Simeon of Tapcho, priest; Sissinius of Tantatho, priest; Theodore of Chotep, priest; Moses of Psammanius, priest; Philotheus of Pemdje, priest; Macarius of Fayum, priest; Maximus of Vuchim, priest; Macroni of Thoni, priest; Senuthius of Buasti, priest; Simeon of Thou, priest; priest Ptolemaeus, son of the Eparch, priest; Thomas of Tanphot, priest. Coptic calendar
---
More about St. Abadir from Wikipedia
---
---
---
More Saints
---
---
Saint Feast Days by Month
---
---
---
---
Martyr whose Apologia, or defense of the faith, is considered one of the most priceless documents of the early Church. Apollonius was a Roman senator who was denounced as a Christian by one of his ... continue reading
More Saint of the Day
---
---
Elizabeth Bayley Seton was the first native born American to be canonized by the Catholic Church. Born two years before the American Revolution, Elizabeth grew up in the "cream" of New York society. She was a prolific reader, and read everything from the ... continue reading
More Female Saints
---
---
---
---
St. Michael the Archangel - Feast day - September 29th The name Michael signifies "Who is like to God?" and was the warcry of the good angels in the battle fought in heaven against satan and his followers. Holy Scripture describes St. Michael as "one of the chief ... continue reading
---
The name Gabriel means "man of God," or "God has shown himself mighty." It appears first in the prophesies of Daniel in the Old Testament. The angel announced to Daniel the prophecy of the seventy weeks. His name also occurs in the apocryphal book of Henoch. He was the ... continue reading
---
---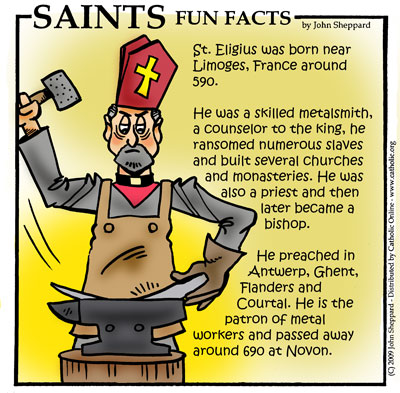 Eligius (also known as Eloi) was born around 590 near Limoges in France. He became an extremely skillful metalsmith and was appointed master of the mint under King Clotaire II of Paris. Eligius ... continue reading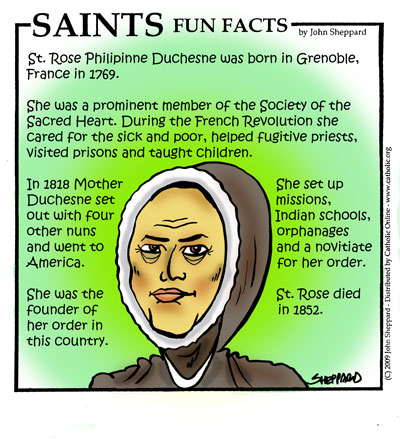 St. Rose Philippine Duchesne, Virgin (Feast day - November 18) Born in Grenoble, France, in 1769, Rose joined the Society of the Sacred Heart. In 1818, when she was forty-nine years old, Rose was ... continue reading
---
More Saints
---
By Rev. Peter M. J. Stravinskas, Ph.D., S.T.D.
This model of Christian manliness recommends himself to us not for any strange or exciting things he did (because he really didn't) but for the daily listening to and heeding the voice of Almighty God - in the home, in the synagogue and Temple, in the ... continue reading
More Christian Saints & Heroes
More Christian Saints & Heroes
---