of near Alexandria. Aka Mena of Kemet (Egypt). Known as Menas of Cotyauem, Menas of Cotyaes; Menas of Cotyaeum; Menas of Egypt; Menas of Kotyaeum; Menas of Mareotis; and Mennas.
I drove camels early in life, but I became a solider for Caesar.
Firmilian was my primicerius. The reign and terror of the persecutions of Diocletian, and co­ruler Maximian erupted.
I left the Imperial Army of Rome, and became a hermit. I was led to preach on one occasion. Through the authority of Pyrrhus, the local prefect, I was arrested for professing and teaching Christ, severely beaten, tortured, martyred at Cotyaes, Phrygia.
Miracles through the grace of God were ascribed to my place of repose. A large church building (called Basilica), became known as the
"Glory of the Libyan Desert". Christian faithful buried me in Mareotis, Kemet(Egypt).
---
---
---
---
More Saints
---
---
Saint Feast Days by Month
---
---
---
---
Franciscan Capuchin martyr. He was born Mark Rey is Sigmaringen, Germany, in 1577. A practicing lawyer, he traveled across Europe as a tutor to aristocrats but then started defending the poor. In ... continue reading
More Saint of the Day
---
---
Lucy's name means "light", with the same root as "lucid" which means "clear, radiant, understandable." Unfortunately for us, Lucy's history does not match her name. Shrouded in the darkness of time, all we really know for certain is that ... continue reading
More Female Saints
---
---
---
---
St. Michael the Archangel - Feast day - September 29th The name Michael signifies "Who is like to God?" and was the warcry of the good angels in the battle fought in heaven against satan and his followers. Holy Scripture describes St. Michael as "one of the chief ... continue reading
---
The name Gabriel means "man of God," or "God has shown himself mighty." It appears first in the prophesies of Daniel in the Old Testament. The angel announced to Daniel the prophecy of the seventy weeks. His name also occurs in the apocryphal book of Henoch. He was the ... continue reading
---
---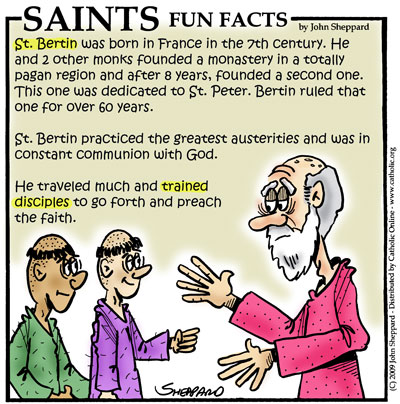 St. Bertin was born about the beginning of the 7th century near Constance, France, and received his religious formation at the abbey of Luxeuil, at that time, the model abbey for the rather strict ... continue reading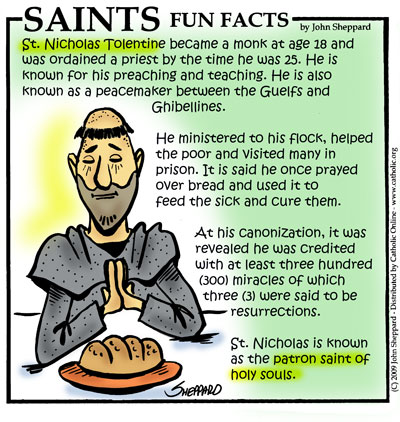 Born in 1245 in Sant'Angelo, St. Nicholas of Tolentino took his name from St. Nicholas of Myra, at whose shrine his parents prayed to have a child. Nicholas became a monk at 18, and seven years ... continue reading
---
More Saints
---
By Rev. Peter M. J. Stravinskas, Ph.D., S.T.D.
This model of Christian manliness recommends himself to us not for any strange or exciting things he did (because he really didn't) but for the daily listening to and heeding the voice of Almighty God - in the home, in the synagogue and Temple, in the ... continue reading
More Christian Saints & Heroes
More Christian Saints & Heroes
---