St. Gertrude the Great
St. Gertrude the Great is invoked for souls in purgatory and for living sinners. Our Lord told St. Gertrude that the following prayer would release 1000 souls from purgatory each time it is said. The prayer was extended to include living sinners as well.
"Eternal Father, I offer Thee the Most Precious Blood of Thy Divine Son, Jesus, in union with the Masses said throughout the world today, for all the Holy Souls in Purgatory, for sinners everywhere, for sinners in the universal church, those in my own home and within my family. Amen."
Learn interesting facts and tidbits about the beloved St. Patrick.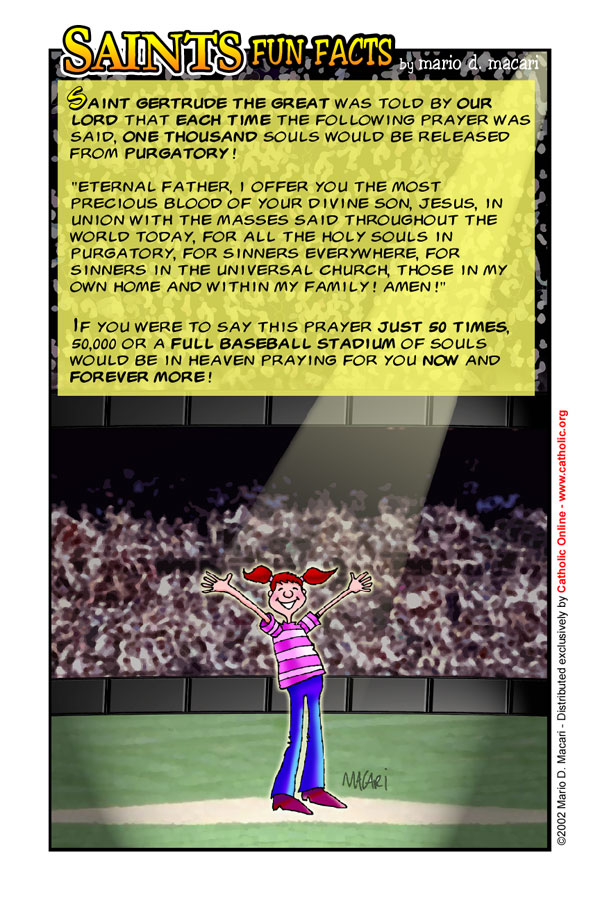 Rate This Saint
---
Leave a Comment
Catholic Online offers the largest searchable database of Catholic Saints on the internet.
---
---
---
---
Reading 1, Isaiah 58:9-14
Then you will cry for help and Yahweh will answer; you will ... Read More
Psalm, Psalms 86:1-2, 3-4, 5-6
[Prayer Of David] Listen to me, Yahweh, answer me, for I am ... Read More
Gospel, Luke 5:27-32
When he went out after this, he noticed a tax collector, Levi ... Read More
St. John of God
March 8: From the time he was eight to the day he died, John followed ... Read More
---
---
---
---
---
---
---
---
Catholic Revival Prayers
These 32-page booklets will help your prayer group support the ... Read More
---