St. Fulgentius of Ruspe
Feastday:
January 1
Died: 533
Bishop of Ruspe, Tunisia, and a friend of St. Augustine. Born Fabius Claudius Gordianus Fulgentius of Carthage, he was a Roman of senatorial rank. His mother, widowed, opposed Fulgentiusí religious career, but he became a monk. He became abbot with Felix but had to flee the monastery in 499 when Vandals or Numidians invaded, going to Sicca Veneria. Retuming to the area, Fulgentius was named bishop of Ruspe, circa 508. King Thrasamund , an Arian, banished Fulgentius to Sardinia, Italy where he and other bishops were aided by Pope St. Symmachus . Fulgentius founded a monastery and wrote such eloquent defenses of orthodox Catholic doctrines that King Thrasamund returned him to his see, only to banish him again. In 523, Fulgentius returned to his see, where he set about rebuilding the faith.
Learn interesting facts and tidbits about the beloved St. Patrick.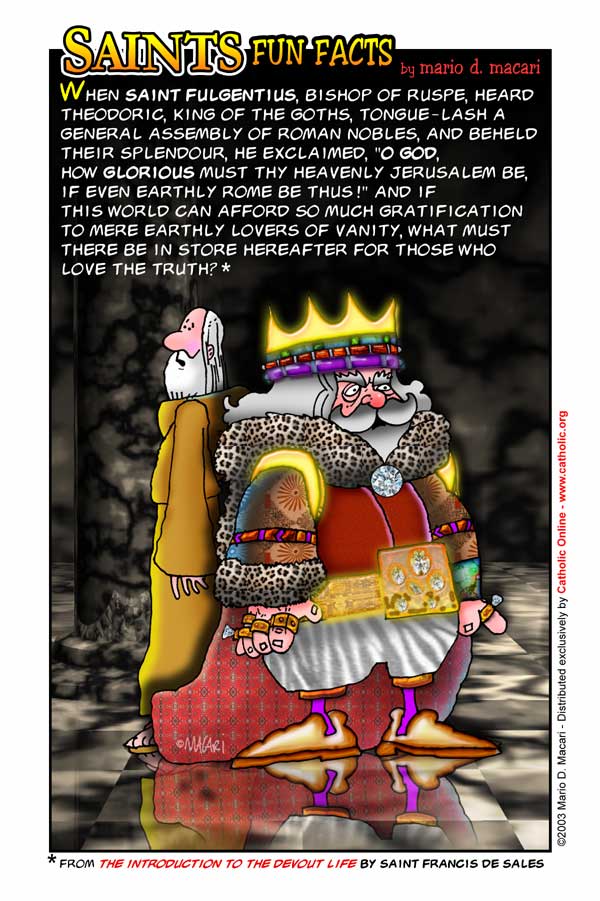 Rate This Saint
Leave a Comment
Catholic Online offers the largest searchable database of Catholic Saints on the internet.
---
---
---
---
Reading 1, Genesis 2:7-9, 3:1-7
Yahweh God shaped man from the soil of the ground and blew the ... Read More
Psalm, Psalms 51:3-4, 5-6, 12-13, 14, 17
For I am well aware of my offences, my sin is constantly in ... Read More
Gospel, Matthew 4:1-11
Then Jesus was led by the Spirit out into the desert to be put ... Read More
Reading 2, Romans 5:12-19
Well then; it was through one man that sin came into the world, ... Read More
St. Frances of Rome
March 9: Frances was born in the city of Rome in 1384 to a wealthy, noble ... Read More
---
---
---
Our Lady Teaches About Prayer at Medjugorje Read More
---
"Mary's Song" Bracelet by Catholic Bling
This elegant accessory is made with a gold colored chain bracelet ... Read More