St. Dorothy
Feastday:
February 6
According to her apochryphal tradition, she was a resident of Caesarea, Cappadocia, who when she refused to sacrifice to the gods during Emperor Diocletian's persecution of the Christians, was tortured by the governor and ordered executed. On the way to the place of execution, she met a young lawyer, Theophilus, who mockingly asked her to send him fruits from "the garden" she had joyously announced she would soon be in. When she knelt for her execution, she prayed, and an angel with a basket of three roses and three apples, which she sent to Theophilus, telling him she would meet him in the garden. Theophilus was converted to Christianity and later was martyred. Her feast day is February 6th.
Learn interesting facts and tidbits about the beloved St. Patrick.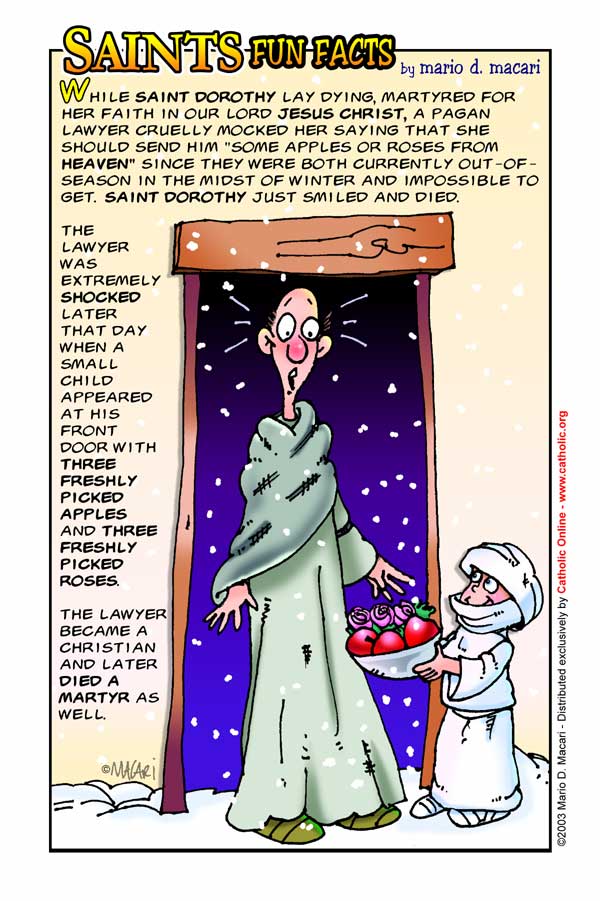 Rate This Saint
---
Leave a Comment
Catholic Online offers the largest searchable database of Catholic Saints on the internet.
---
---
---
---
St. Constantine
March 11: Constantine was king of Cornwall. Unreliable tradition has him ... Read More
---
---
---
The Dialogues of Saint Gregory the Great
Having witnessed the string of disasters that shattered his beloved ... Read More
---
"Padre Pio" Rosary by Catholic Bling
What a beautiful color combination! Vibrant pink beads made of ... Read More