St. Alphege
Feastday:
March 12
Died: 951
Bishop and prophet, called "the Elder" or "the Bald." Also known as Elphege, he was the bishop of Winchester, England. There he ordained St. Dunstan. A holy prophet, Alphege is credited with helping to restore monasticism to England.
Learn interesting facts and tidbits about the beloved St. Patrick.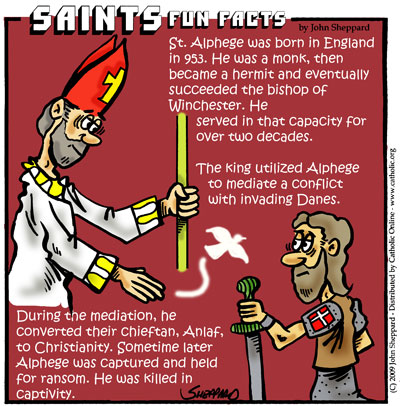 Rate This Saint
Leave a Comment
Catholic Online offers the largest searchable database of Catholic Saints on the internet.
---
---
---
---
Reading 1, Genesis 2:7-9, 3:1-7
Yahweh God shaped man from the soil of the ground and blew the ... Read More
Psalm, Psalms 51:3-4, 5-6, 12-13, 14, 17
For I am well aware of my offences, my sin is constantly in ... Read More
Gospel, Matthew 4:1-11
Then Jesus was led by the Spirit out into the desert to be put ... Read More
Reading 2, Romans 5:12-19
Well then; it was through one man that sin came into the world, ... Read More
St. Frances of Rome
March 9: Frances was born in the city of Rome in 1384 to a wealthy, noble ... Read More
---
---
---
---
---
---
---
---
Saints for Young Readers July - December
This second volume of two brings a year's worth of saints into the ... Read More
---
Christmas Gifts of Faith
Christmas Gifts for family and friends. Give gifts of faith this ... Read More