Presbyter. Possibly a duplicate name, but a Presbyter of the (Africa) Mareotis area in Kemet, who agreed to the deposition at Alexandria in 321 A.D., in a synod of more than 100 African Kemetian (Egyptian), and Libyan bishops of Heretic priest Arius and henchmen. A holy folk.
---
---
---
---
More Saints
---
---
Saint Feast Days by Month
---
---
---
---
Archbishop and "the First Martyr of Canterbury." He was born in 953 and became a monk in the Deerhurst Monastery in Gloucester, England, asking after a few years to become a hermit. He received ... continue reading
More Saint of the Day
---
---
On April 16, 1879, Bernadette -- or Sister Marie-Bernard, as she was known within her order -- died in the Sainte Croix (Holy Cross) Infirmary of the Convent of Saint-Gildard. She was thirty-five. Born into a humble family which little by little fell into extreme ... continue reading
More Female Saints
---
---
---
---
St. Michael the Archangel - Feast day - September 29th The name Michael signifies "Who is like to God?" and was the warcry of the good angels in the battle fought in heaven against satan and his followers. Holy Scripture describes St. Michael as "one of the chief ... continue reading
---
The name Gabriel means "man of God," or "God has shown himself mighty." It appears first in the prophesies of Daniel in the Old Testament. The angel announced to Daniel the prophecy of the seventy weeks. His name also occurs in the apocryphal book of Henoch. He was the ... continue reading
---
---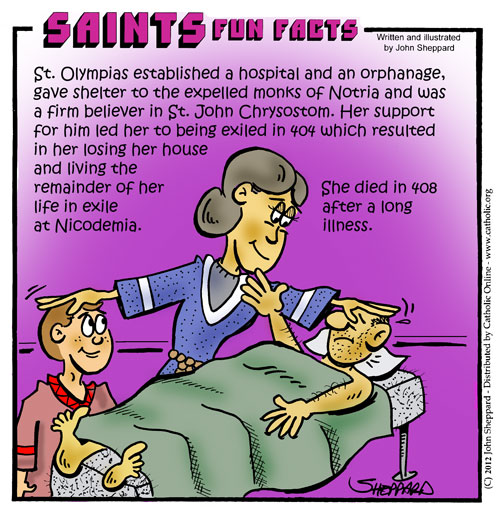 Olympias born into a wealthy noble Constantinople family. She was orphaned when a child and was given over to the care of Theodosia by her uncle, the prefect Procopius. She married Nebridius, also a ... continue reading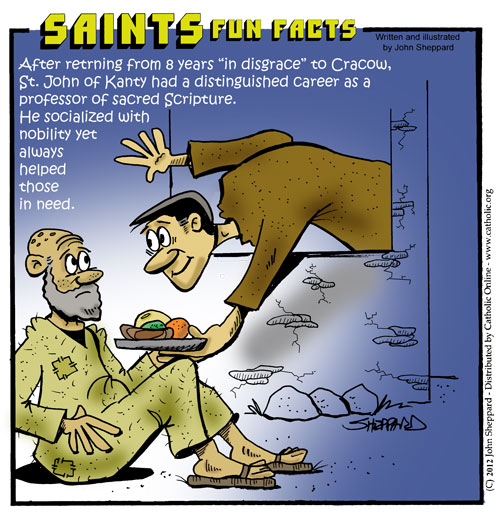 The people of Olkusz in Bohemia in 1431 had every reason to be suspicious of their new pastor. They knew what a Cracow professor would think of their small rural town. But even more insulting, their ... continue reading
---
More Saints
---
By Rev. Peter M. J. Stravinskas, Ph.D., S.T.D.
This model of Christian manliness recommends himself to us not for any strange or exciting things he did (because he really didn't) but for the daily listening to and heeding the voice of Almighty God - in the home, in the synagogue and Temple, in the ... continue reading
More Christian Saints & Heroes
More Christian Saints & Heroes
---