Presbyter. Possibly a duplicate name, but a Presbyter of the (Africa) Mareotis area in Kemet, who agreed to the deposition at Alexandria in 321 A.D., in a synod of more than 100 African Kemetian (Egyptian), and Libyan bishops of Heretic priest Arius and his henchmen. (Holy folk).
---
---
---
---
More Saints
---
---
Saint Feast Days by Month
---
---
---
---
When St. Mamertinus was Abbot of the monastery which St. Germanus had founded at Auxerre, there came to him a young man called Marcian (also known as Marian), a fugitive from Bourges then occupied by ... continue reading
More Saint of the Day
---
---
St. Bridget arrived in Ireland a few years after St. Patrick. Her father was an Irish lord named Duptace. As Bridget grew up, she became holier and more pious each day. She loved the poor and would often bring food and clothing to them. One day she gave away a ... continue reading
More Female Saints
---
---
---
---
St. Michael the Archangel - Feast day - September 29th The name Michael signifies "Who is like to God?" and was the warcry of the good angels in the battle fought in heaven against satan and his followers. Holy Scripture describes St. Michael as "one of the chief ... continue reading
---
The name Gabriel means "man of God," or "God has shown himself mighty." It appears first in the prophesies of Daniel in the Old Testament. The angel announced to Daniel the prophecy of the seventy weeks. His name also occurs in the apocryphal book of Henoch. He was the ... continue reading
---
---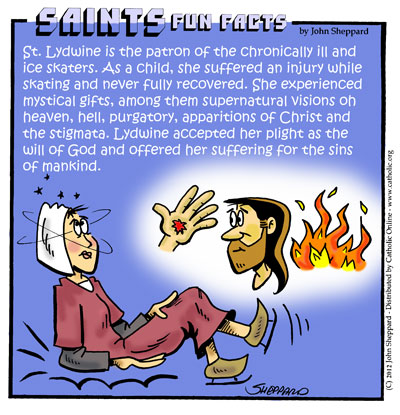 St. Lydwine is the patroness of sickness Lydwine of Schiedam was born at Schiedam, Holland, one of nine children of a working man. After an injury in her youth, she became bedridden and suffered the ... continue reading
The second Gospel was written by St. Mark, who, in the New Testament, is sometimes called John Mark. Both he and his mother, Mary, were highly esteemed in the early Church, and his mother's house in ... continue reading
---
More Saints
---
By Rev. Peter M. J. Stravinskas, Ph.D., S.T.D.
This model of Christian manliness recommends himself to us not for any strange or exciting things he did (because he really didn't) but for the daily listening to and heeding the voice of Almighty God - in the home, in the synagogue and Temple, in the ... continue reading
More Christian Saints & Heroes
More Christian Saints & Heroes
---