Presbyter. Possibly a duplicate name, but a Presbyter of the (Africa) Mareotis area in Kemet, who agreed to the deposition at Alexandria in 321 A.D., in a synod of more than 100 African Kemetian (Egyptian), and Libyan bishops of Heretic priest Arius and his henchmen. (Holy folk).
---
---
---
---
More Saints
---
---
Saint Feast Days by Month
---
---
---
---
Pictures of St. George usually show him killing a dragon to rescue a beautiful lady. The dragon stands for wickedness. The lady stands for God's holy truth. St. George was a brave martyr who was ... continue reading
More Saint of the Day
---
---
St. Agnes was a Roman girl who was only thirteen years old when she suffered martyrdom for her Faith. Agnes had made a promise, a promise to God never to stain her purity. Her love for the Lord was very great and she hated sin even more than death! Since she was very ... continue reading
More Female Saints
---
---
---
---
St. Michael the Archangel - Feast day - September 29th The name Michael signifies "Who is like to God?" and was the warcry of the good angels in the battle fought in heaven against satan and his followers. Holy Scripture describes St. Michael as "one of the chief ... continue reading
---
The name Gabriel means "man of God," or "God has shown himself mighty." It appears first in the prophesies of Daniel in the Old Testament. The angel announced to Daniel the prophecy of the seventy weeks. His name also occurs in the apocryphal book of Henoch. He was the ... continue reading
---
---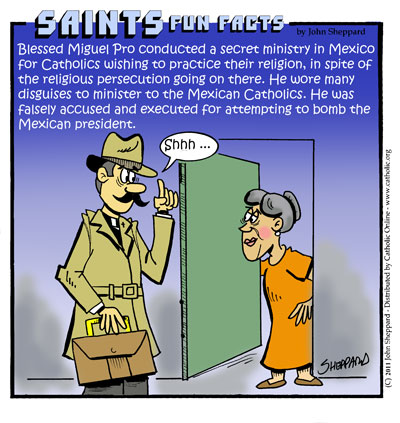 Born on January 13, 1891 in Guadalupe, Mexico, Miguel Agustin Pro Juarez was the eldest son of Miguel Pro and Josefa Juarez. Miguelito, as his doting family called him, was, from an early age, ... continue reading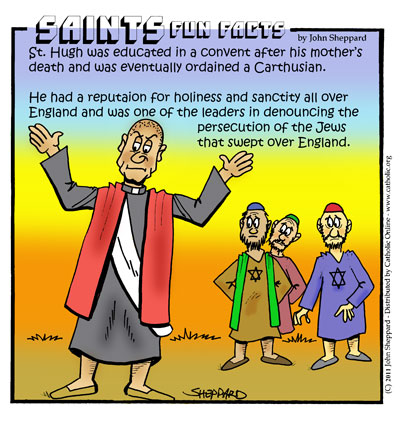 Hugh of Lincoln was the son of William, Lord of Avalon. He was born at Avalon Castle in Burgundy and was raised and educated at a convent at Villard-Benoit after his mother died when he was eight. He ... continue reading
---
More Saints
---
By Rev. Peter M. J. Stravinskas, Ph.D., S.T.D.
This model of Christian manliness recommends himself to us not for any strange or exciting things he did (because he really didn't) but for the daily listening to and heeding the voice of Almighty God - in the home, in the synagogue and Temple, in the ... continue reading
More Christian Saints & Heroes
More Christian Saints & Heroes
---