, (according to Athanasius) became a Christian, a monk, and a bishop after several
years more. Mar. 15, 351 A.D. six years after Pachomius died. Among the holy folk.
---
---
---
---
More Saints
---
---
Saint Feast Days by Month
---
---
---
---
Franciscan Capuchin martyr. He was born Mark Rey is Sigmaringen, Germany, in 1577. A practicing lawyer, he traveled across Europe as a tutor to aristocrats but then started defending the poor. In ... continue reading
More Saint of the Day
---
---
St. Joan of Arc is the patroness of soldiers and of France. On January 6, 1412, Joan of Arc was born to pious parents of the French peasant class, at the obscure village of Domremy, near the province of Lorraine. At a very early age, she heard voices: those of St. ... continue reading
More Female Saints
---
---
---
---
St. Michael the Archangel - Feast day - September 29th The name Michael signifies "Who is like to God?" and was the warcry of the good angels in the battle fought in heaven against satan and his followers. Holy Scripture describes St. Michael as "one of the chief ... continue reading
---
The name Gabriel means "man of God," or "God has shown himself mighty." It appears first in the prophesies of Daniel in the Old Testament. The angel announced to Daniel the prophecy of the seventy weeks. His name also occurs in the apocryphal book of Henoch. He was the ... continue reading
---
---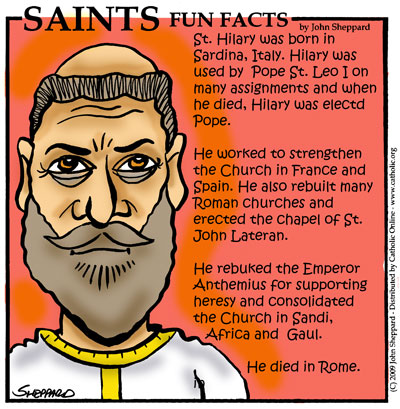 Pope from 461-468 and guardian of Church unity. He was born in Sardinia, Italy, and was a papal legate to the Robber Council of Ephesus in 449, barely escaping with his life from this affair. Hilary ... continue reading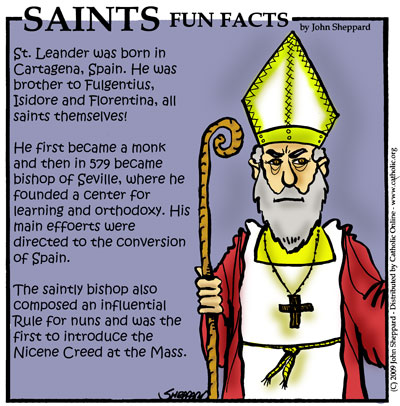 St. Leander of Seville, Bishop (Feast - February 27th) Leander was born at Cartagena, Spain, of Severianus and Theodora, illustrious for their virtue. St. Isidore and Fulgentius, both bishops were ... continue reading
---
More Saints
---
By Rev. Peter M. J. Stravinskas, Ph.D., S.T.D.
This model of Christian manliness recommends himself to us not for any strange or exciting things he did (because he really didn't) but for the daily listening to and heeding the voice of Almighty God - in the home, in the synagogue and Temple, in the ... continue reading
More Christian Saints & Heroes
More Christian Saints & Heroes
---