, (according to Athanasius) became a Christian, a monk, and a bishop after several
years more. Mar. 15, 351 A.D. six years after Pachomius died. Among the holy folk.
---
---
---
---
More Saints
---
---
Saint Feast Days by Month
---
---
---
---
On April 16, 1879, Bernadette -- or Sister Marie-Bernard, as she was known within her order -- died in the Sainte Croix (Holy Cross) Infirmary of the Convent of Saint-Gildard. She was ... continue reading
More Saint of the Day
---
---
Margaret was an English princess. She and her mother sailed to Scotland to escape from the king who had conquered their land. King Malcolm of Scotland welcomed them and fell in love with the beautiful princess. Margaret and Malcolm were married before too long. As ... continue reading
More Female Saints
---
---
---
---
St. Michael the Archangel - Feast day - September 29th The name Michael signifies "Who is like to God?" and was the warcry of the good angels in the battle fought in heaven against satan and his followers. Holy Scripture describes St. Michael as "one of the chief ... continue reading
---
The name Gabriel means "man of God," or "God has shown himself mighty." It appears first in the prophesies of Daniel in the Old Testament. The angel announced to Daniel the prophecy of the seventy weeks. His name also occurs in the apocryphal book of Henoch. He was the ... continue reading
---
---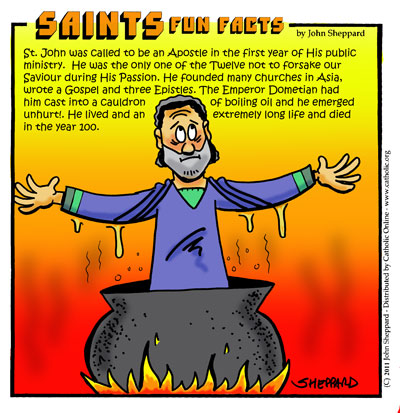 St. John, Apostle and Evangelist (Feast day - December 27th) St. John, the son of Zebedee, and the brother of St. James the Great, was called to be an Apostle by our Lord in the first year of His ... continue reading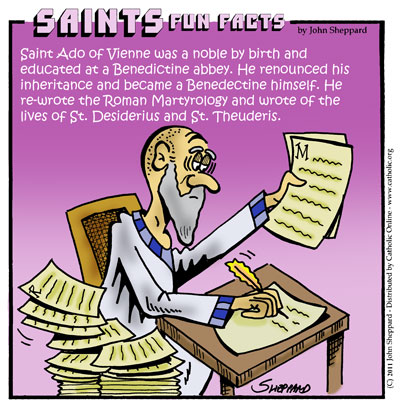 An archbishop and scholar, Ado was born in Sens and educated at the Benedictine abbey of Ferrieres. Abbot Lupus Servatus, an outstanding humanist of the time, trained Ado, and was impressed with the ... continue reading
---
More Saints
---
By Rev. Peter M. J. Stravinskas, Ph.D., S.T.D.
This model of Christian manliness recommends himself to us not for any strange or exciting things he did (because he really didn't) but for the daily listening to and heeding the voice of Almighty God - in the home, in the synagogue and Temple, in the ... continue reading
More Christian Saints & Heroes
More Christian Saints & Heroes
---