confessor. I was a rich nobleman of Alexandria. I helped financially, the theologian, Origen. Jailed for faith under Maximinus, I was eventually released. I died in 250 A.D.
---
More about St. Ambrose of Alexandria from Wikipedia
---
---
---
More Saints
---
---
Saint Feast Days by Month
---
---
---
---
Franciscan Capuchin martyr. He was born Mark Rey is Sigmaringen, Germany, in 1577. A practicing lawyer, he traveled across Europe as a tutor to aristocrats but then started defending the poor. In ... continue reading
More Saint of the Day
---
---
St. Josephine Bakhita was born in Sudan in 1869. This African flower, who knew the anguish of kidnapping and slavery, bloomed marvelously in Italy, in response to God's grace, with the Daughters of Charity, where everyone still calls her "Mother Moretta" (our Black ... continue reading
More Female Saints
---
---
---
---
St. Michael the Archangel - Feast day - September 29th The name Michael signifies "Who is like to God?" and was the warcry of the good angels in the battle fought in heaven against satan and his followers. Holy Scripture describes St. Michael as "one of the chief ... continue reading
---
The name Gabriel means "man of God," or "God has shown himself mighty." It appears first in the prophesies of Daniel in the Old Testament. The angel announced to Daniel the prophecy of the seventy weeks. His name also occurs in the apocryphal book of Henoch. He was the ... continue reading
---
---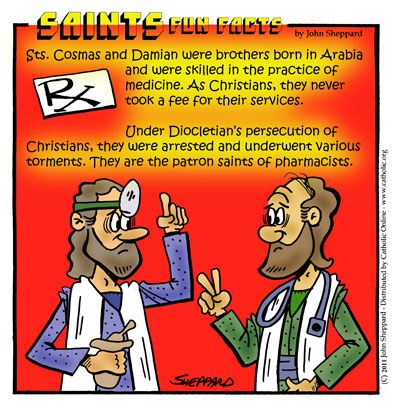 Sts. Cosmas and Damian were brothers, born in Arabia, who had become eminent for their skill in the science of medicine. Being Christians, they were filled with the spirit of charity and never took ... continue reading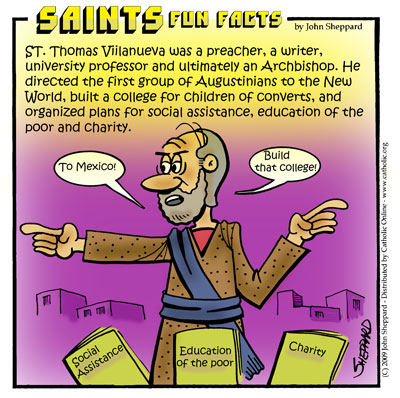 Augustinian bishop. Born at Fuentellana, Castile, Spain, he was the son of a miller. He studied at the University of Alcala, earned a licentiate in theology, and became a professor there at the age ... continue reading
---
More Saints
---
By Rev. Peter M. J. Stravinskas, Ph.D., S.T.D.
This model of Christian manliness recommends himself to us not for any strange or exciting things he did (because he really didn't) but for the daily listening to and heeding the voice of Almighty God - in the home, in the synagogue and Temple, in the ... continue reading
More Christian Saints & Heroes
More Christian Saints & Heroes
---