In Alexandria, Kemet about 250
A.D. I suffered martyrdom during the terror and persecutions of Decius, 12 Dec.
---
---
---
---
More Saints
---
---
Saint Feast Days by Month
---
---
---
---
Franciscan Capuchin martyr. He was born Mark Rey is Sigmaringen, Germany, in 1577. A practicing lawyer, he traveled across Europe as a tutor to aristocrats but then started defending the poor. In ... continue reading
More Saint of the Day
---
---
Although we have evidence that Agatha was venerated at least as far back as the sixth century, the only facts we have about her are that she was born in Sicily and died there a martyr. In the legend of her life, we are told that she belonged to a rich, important ... continue reading
More Female Saints
---
---
---
---
St. Michael the Archangel - Feast day - September 29th The name Michael signifies "Who is like to God?" and was the warcry of the good angels in the battle fought in heaven against satan and his followers. Holy Scripture describes St. Michael as "one of the chief ... continue reading
---
The name Gabriel means "man of God," or "God has shown himself mighty." It appears first in the prophesies of Daniel in the Old Testament. The angel announced to Daniel the prophecy of the seventy weeks. His name also occurs in the apocryphal book of Henoch. He was the ... continue reading
---
---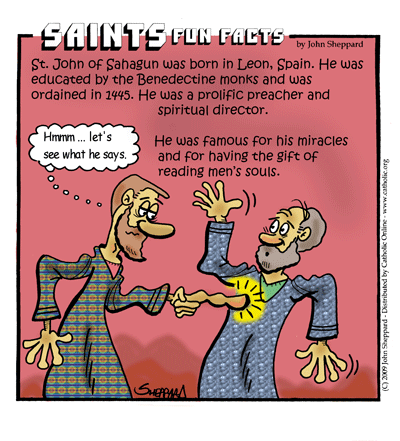 John Gonzales de Castrillo was born at Sahagun, Leon Spain. He was educated by the Benedictine monks of Fagondez monastery there and when twenty, received a canonry from the bishop of Burgos, though ... continue reading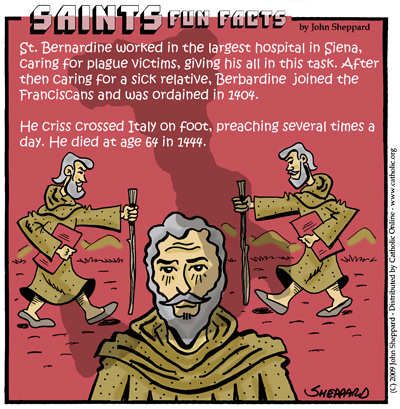 In the year 1400, a young man came to the door of the largest hospital in Siena. A plague was raging through the city so horrible that as many as twenty people died each day just in the hospital ... continue reading
---
More Saints
---
By Rev. Peter M. J. Stravinskas, Ph.D., S.T.D.
This model of Christian manliness recommends himself to us not for any strange or exciting things he did (because he really didn't) but for the daily listening to and heeding the voice of Almighty God - in the home, in the synagogue and Temple, in the ... continue reading
More Christian Saints & Heroes
More Christian Saints & Heroes
---