Bishop, martyred in 311 A.D. I attacked some of Origenís principles, according to Leontius of Byzantium and Roman Emperor Justinian, 3 Mar.
---
---
---
---
More Saints
---
---
Saint Feast Days by Month
---
---
---
---
Franciscan Capuchin martyr. He was born Mark Rey is Sigmaringen, Germany, in 1577. A practicing lawyer, he traveled across Europe as a tutor to aristocrats but then started defending the poor. In ... continue reading
More Saint of the Day
---
---
By tradition Joachim and Anne are considered to be the names of the parents of Mary, the Mother of God. We have no historical evidence, however, of any elements of their lives, including their names. Any stories about Mary's father and mother come to us through legend ... continue reading
More Female Saints
---
---
---
---
St. Michael the Archangel - Feast day - September 29th The name Michael signifies "Who is like to God?" and was the warcry of the good angels in the battle fought in heaven against satan and his followers. Holy Scripture describes St. Michael as "one of the chief ... continue reading
---
The name Gabriel means "man of God," or "God has shown himself mighty." It appears first in the prophesies of Daniel in the Old Testament. The angel announced to Daniel the prophecy of the seventy weeks. His name also occurs in the apocryphal book of Henoch. He was the ... continue reading
---
---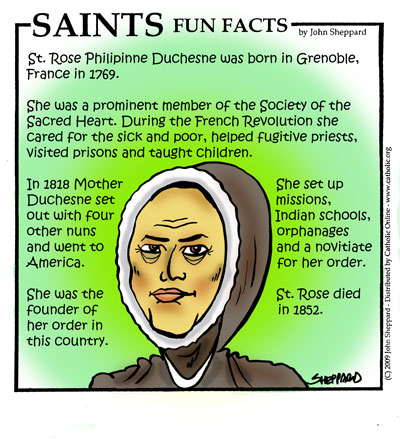 St. Rose Philippine Duchesne, Virgin (Feast day - November 18) Born in Grenoble, France, in 1769, Rose joined the Society of the Sacred Heart. In 1818, when she was forty-nine years old, Rose was ... continue reading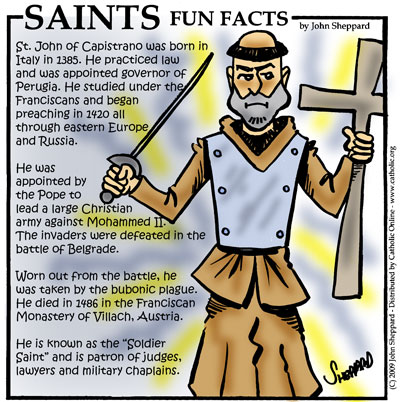 St. John was born at Capistrano, Italy in 1385, the son of a former German knight in that city. He studied law at the University of Perugia and practiced as a lawyer in the courts of Naples. King ... continue reading
---
More Saints
---
By Rev. Peter M. J. Stravinskas, Ph.D., S.T.D.
This model of Christian manliness recommends himself to us not for any strange or exciting things he did (because he really didn't) but for the daily listening to and heeding the voice of Almighty God - in the home, in the synagogue and Temple, in the ... continue reading
More Christian Saints & Heroes
More Christian Saints & Heroes
---