of Kemet,martyr. July 9, converted and martyred with Patermuthius (Petarpemotis), Copres, and Alexander.
I, Patermuthius, was a 75 years old, Kemetian hermit. I was originally a robber. My follower and converter, the monk Copres (Copri) and I were arraigned by Julian the Apostate. Torture weakened Copri. We were thrown into the furnace. 4th century, 9 July, 17 Dec.
---
---
---
---
More Saints
---
---
Saint Feast Days by Month
---
---
---
---
Anicetus was a Syrian from Emesa. He became pope about 155 and actively opposed Marcionism and Gnosticism. His pontificate saw the appearance of the controversy between East and West over the date of ... continue reading
More Saint of the Day
---
---
Saint Faustina was born Helena Kowalska in a small village west of Lodz, Poland on August 25, 1905. She was the third of ten children. When she was almost twenty, she entered the Congregation of the Sisters of Our Lady of Mercy, whose members devote themselves to the ... continue reading
More Female Saints
---
---
---
---
St. Michael the Archangel - Feast day - September 29th The name Michael signifies "Who is like to God?" and was the warcry of the good angels in the battle fought in heaven against satan and his followers. Holy Scripture describes St. Michael as "one of the chief ... continue reading
---
The name Gabriel means "man of God," or "God has shown himself mighty." It appears first in the prophesies of Daniel in the Old Testament. The angel announced to Daniel the prophecy of the seventy weeks. His name also occurs in the apocryphal book of Henoch. He was the ... continue reading
---
---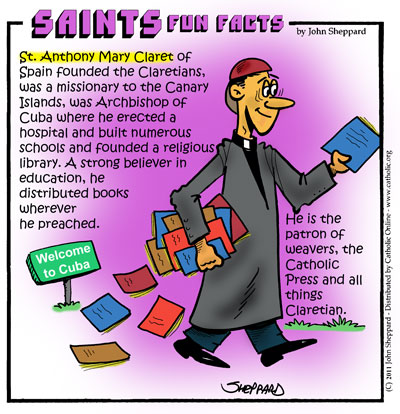 Claretian archbishop and founder. Anthony was born in Salient in Catalonia, Spain, in 1807, the son of a weaver. He took up weaving but then studied for the priesthood, desiring to be a Jesuit. Ill ... continue reading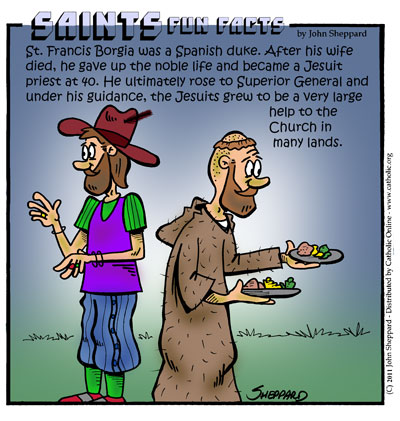 Francis was a young nobleman at the court of the King of Spain. He became a Duke when he was only thirty-three and lived a happy, peaceful life with his wife Eleanor and their eight children. But ... continue reading
---
More Saints
---
By Rev. Peter M. J. Stravinskas, Ph.D., S.T.D.
This model of Christian manliness recommends himself to us not for any strange or exciting things he did (because he really didn't) but for the daily listening to and heeding the voice of Almighty God - in the home, in the synagogue and Temple, in the ... continue reading
More Christian Saints & Heroes
More Christian Saints & Heroes
---