I am St Alexander. I followed Achillas in the see (church headquarters) of Alexandria in 313 A.D.
I cared for the poor, in my mild mannered way. In administrative positions, I somewhat favored
monks who had lived in solitude for Church positions.
Sadly, during my administration, the Alexandrian priest Arius joined Meletius, Bishop of Lycopolis. Meletius broke away from Peter, the Alexandrian patriarch in 300 A.D. But Meletius returned to the faith.
Patriarch Peter took Meletius back, after he repented. And ordained Arius deacon. Arius returned to his usurper ways, causing problems in working for the Meletians.
Peter excommunicated Arius. But Achillas took him back after he repented. Then made him a priest, curator of a church in the Baucales region of Alexandria.
Arius denied Yeshua as God. Father Athanasius told us that Arius claimed Yeshua other than his created divinity, or spiritual substance, was made before the world.
Colluthus, a curator of Alexandria with others attacked the blasphemies of Arius and his followers (called Arians). Folks called Catholics, Colluthians.
I tried to persuade Arius back to truth. Colluthus was not pleased with my lenient behavior of Arius. He precipitated.
   But soon he returned to the fold of Holy Mother Church. Learning that the followers of Arius were increasing, I called Arius before the clergy as a group. I excommunicated him around the latter part of 320 A.D.
condemned him and his followers, calling anathema condemned by the synod.
I wrote Pope Sylvester about the problems Arius was causing. Even Emperor Constantine intervened to inquire about the matters.
I sat in on the First Council of Nicea in 325
A.D. 26 Feb. I went home to Yeshua's judgment, 326 A.D.
I brought Athanasius to the meetings that discussed Arius, who was exiled. I died 26 Feb. 326 A.D. Athanasius succeeded me.
---
---
---
---
More Saints
---
---
Saint Feast Days by Month
---
---
---
---
Martyr whose Apologia, or defense of the faith, is considered one of the most priceless documents of the early Church. Apollonius was a Roman senator who was denounced as a Christian by one of his ... continue reading
More Saint of the Day
---
---
Although we have evidence that Agatha was venerated at least as far back as the sixth century, the only facts we have about her are that she was born in Sicily and died there a martyr. In the legend of her life, we are told that she belonged to a rich, important ... continue reading
More Female Saints
---
---
---
---
St. Michael the Archangel - Feast day - September 29th The name Michael signifies "Who is like to God?" and was the warcry of the good angels in the battle fought in heaven against satan and his followers. Holy Scripture describes St. Michael as "one of the chief ... continue reading
---
The name Gabriel means "man of God," or "God has shown himself mighty." It appears first in the prophesies of Daniel in the Old Testament. The angel announced to Daniel the prophecy of the seventy weeks. His name also occurs in the apocryphal book of Henoch. He was the ... continue reading
---
---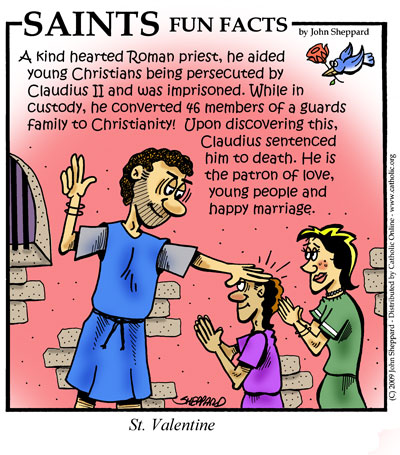 Click Here for St. Valentine Prayer's Valentine was a holy priest in Rome, who, with St. Marius and his family, assisted the martyrs in the persecution under Claudius II. He was apprehended, and ... continue reading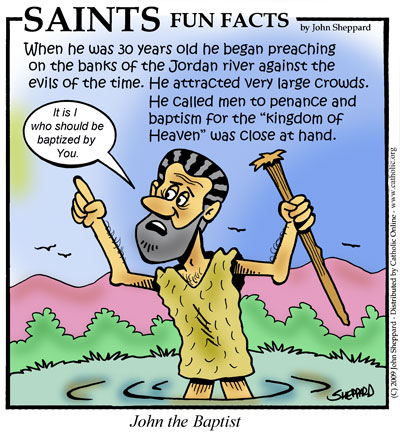 John the Baptist was the son of Zachary, a priest of the Temple in Jerusalem, and Elizabeth, a kinswoman of Mary who visited her. He was probably born at Ain-Karim southwest of Jerusalem after the ... continue reading
---
More Saints
---
By Rev. Peter M. J. Stravinskas, Ph.D., S.T.D.
This model of Christian manliness recommends himself to us not for any strange or exciting things he did (because he really didn't) but for the daily listening to and heeding the voice of Almighty God - in the home, in the synagogue and Temple, in the ... continue reading
More Christian Saints & Heroes
More Christian Saints & Heroes
---