Named in writing by Athanasius, bishop of Onuphis. Exiled by Arians to the Thebaid. A Holy Folk.
---
---
---
---
More Saints
---
---
Saint Feast Days by Month
---
---
---
---
Franciscan Capuchin martyr. He was born Mark Rey is Sigmaringen, Germany, in 1577. A practicing lawyer, he traveled across Europe as a tutor to aristocrats but then started defending the poor. In ... continue reading
More Saint of the Day
---
---
St. Christina was the daughter of a rich and powerful magistrate named Urbain. Her father, who was deep in the practices of heathenism, had a number of golden idols, which our saint destroyed, and distributed the pieces among the poor. Infuriated by this act, Urbain ... continue reading
More Female Saints
---
---
---
---
St. Michael the Archangel - Feast day - September 29th The name Michael signifies "Who is like to God?" and was the warcry of the good angels in the battle fought in heaven against satan and his followers. Holy Scripture describes St. Michael as "one of the chief ... continue reading
---
The name Gabriel means "man of God," or "God has shown himself mighty." It appears first in the prophesies of Daniel in the Old Testament. The angel announced to Daniel the prophecy of the seventy weeks. His name also occurs in the apocryphal book of Henoch. He was the ... continue reading
---
---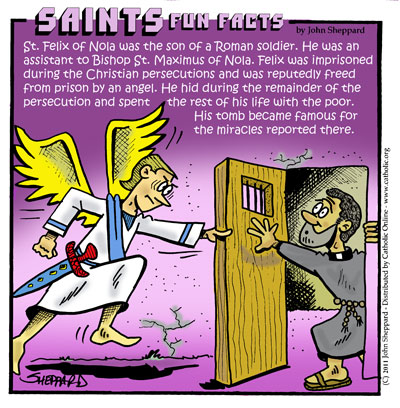 Felix was the son of Hermias, a Syrian who had been a Roman soldier. He was born on his father's estate at Nola near Naples, Italy. On the death of his father, Felix distributed his inheritance to ... continue reading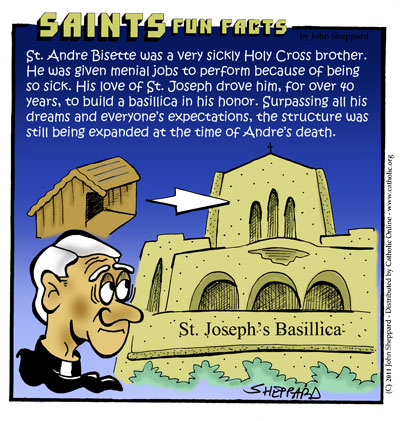 When Alfred Bessette came to the Holy Cross Brothers in 1870, he carried with him a note from his pastor saying, "I am sending you a saint." The Brothers found that difficult to believe. Chronic ... continue reading
---
More Saints
---
By Rev. Peter M. J. Stravinskas, Ph.D., S.T.D.
This model of Christian manliness recommends himself to us not for any strange or exciting things he did (because he really didn't) but for the daily listening to and heeding the voice of Almighty God - in the home, in the synagogue and Temple, in the ... continue reading
More Christian Saints & Heroes
More Christian Saints & Heroes
---