Named in writing by Athanasius, bishop of Onuphis. Exiled by Arians to the Thebaid. A Holy Folk.
---
---
---
---
More Saints
---
---
Saint Feast Days by Month
---
---
---
---
Martyr whose Apologia, or defense of the faith, is considered one of the most priceless documents of the early Church. Apollonius was a Roman senator who was denounced as a Christian by one of his ... continue reading
More Saint of the Day
---
---
St. Catherine Laboure, virgin, was born on May 2, 1806. At an early age she entered the community of the Daughters of Charity, in Paris, France. Three times in 1830 the Virgin Mary appeared to St. Catherine Laboure, who then was a twenty-four year old novice. On July ... continue reading
More Female Saints
---
---
---
---
St. Michael the Archangel - Feast day - September 29th The name Michael signifies "Who is like to God?" and was the warcry of the good angels in the battle fought in heaven against satan and his followers. Holy Scripture describes St. Michael as "one of the chief ... continue reading
---
The name Gabriel means "man of God," or "God has shown himself mighty." It appears first in the prophesies of Daniel in the Old Testament. The angel announced to Daniel the prophecy of the seventy weeks. His name also occurs in the apocryphal book of Henoch. He was the ... continue reading
---
---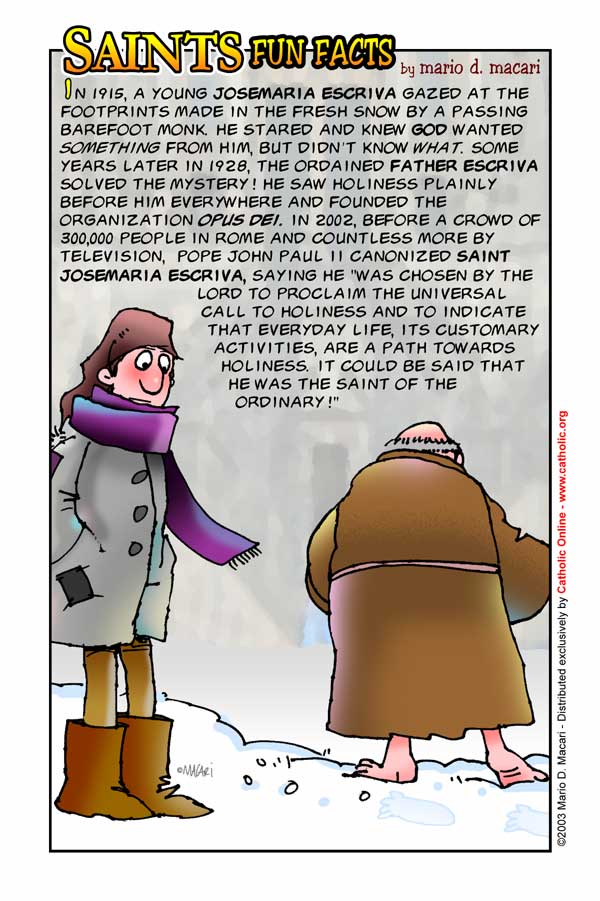 Josemaria Escriva de Balaguer was born in Barbastro, Spain, on January 9, 1902, the second of six children of Jose and Dolores Escriva. Growing up in a devout family and attending Catholic schools, ... continue reading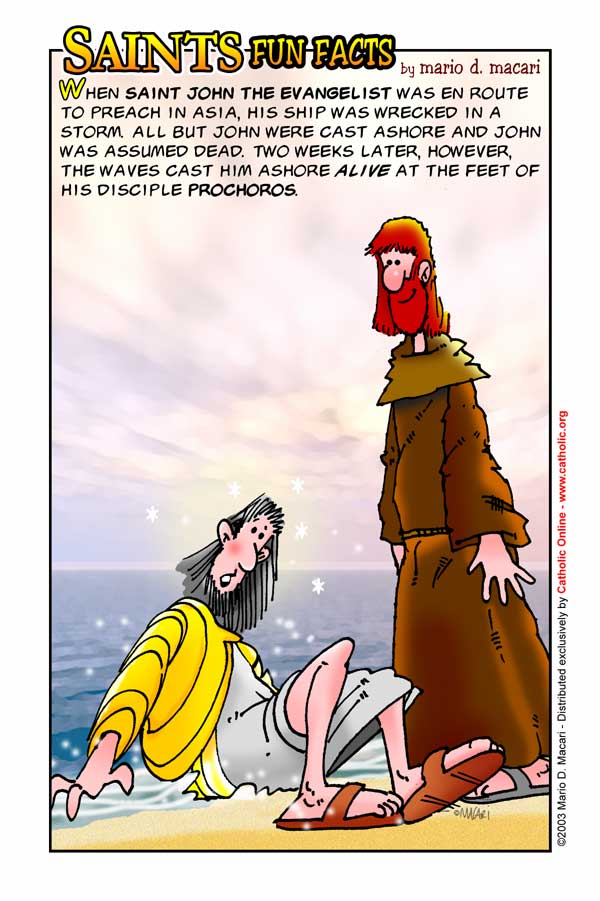 Saint John the Divine as the son of Zebedee, and his mother's name was Salome [Matthew 4:21, 27:56; Mark 15:40, 16:1]. They lived on the shores of the sea of Galilee. The brother of Saint John, ... continue reading
---
More Saints
---
By Rev. Peter M. J. Stravinskas, Ph.D., S.T.D.
This model of Christian manliness recommends himself to us not for any strange or exciting things he did (because he really didn't) but for the daily listening to and heeding the voice of Almighty God - in the home, in the synagogue and Temple, in the ... continue reading
More Christian Saints & Heroes
More Christian Saints & Heroes
---